PAST EVENTS:
Tuesday, December 7, 2021 @ 7:00 pm
THIS IS THE YEAR WE BREAK FREE FROM PLASTICS!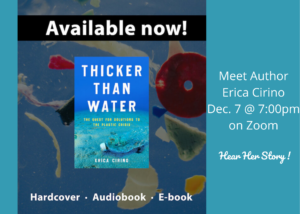 Please join the TTPW Beyond Plastics Youth Activists on Zoom for this timely interactive discussion featuring Long Island native, Erica Cirino.
Erica Cirino is a science writer, author and artist who explores the intersection of the human and nonhuman worlds. Her widely published photojournalistic works depict the numerous ways people connect to nature—and each other—and shape planet Earth.
In this presentation plus Q & A, Erica will share her research and photos from her ocean travels and discuss her new book: Thicker Than Water: The Quest for Solutions to the Plastic Crisis (published by Island Press, in October 2021).
Erica's life work documents plastic across ecosystems and elements. She shares stories from the primarily black, brown, indigenous and rural communities that are disproportionately harmed by industrial pollution globally and uncovers strategies that work to prevent plastic from causing further devastation to our planet and its inhabitants.
Ever wondered what the Great Pacific Garbage Patch really looks like? Come to this zoom presentation to find out! Erica has sailed her boat through it and surely it is much more than any of us can ever imagine.
Here is the zoom link to pre-register: https://us02web.zoom.us/meeting/register/tZAud-ytpz4vHta2sikaikdFDiaf-Z_i5yEg
Produced by Transition Town Port Washington and the Science Museum of Long Island
ANNOUNCEMENT:
The TTPW Tree Regeneration Committee is delighted to share that after much fruitful and rewarding collaboration with Councilwoman Veronica Lurvey and her colleagues, the amendments to our Tree Laws have been expeditiously and admirably strengthened and improved.
Our very own dr. Hildur Palsdottir and Sol's Center friend Alicia Ragusa, Esq made this important change possible through their hard work and expertise, along with all the members of TTPW. Big thank you on behalf of trees and our community!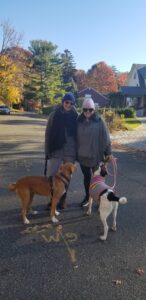 Hildur and Alicia
Some of the major improvements that have been incorporated into the Proposed Tree Law Amendments include:
·   recognition of our role as stewards by shifting from a "tree control" model to a "conservation and care of trees" model
·   Implementation of a Tree Master Plan to enhance the Town's tree resources and increase the tree canopy within five years
·   Creation of a Tree Preservation Fund
·   Codifying a Tree Advisory Committee
·   Plans for planting "mini groves" throughout the Town
·   Recognition of the essential impact of trees on stormwater runoff and resilience in extreme weather
·   Required tree replacement for trees in residential front yards
You can find the revised Proposed Tree Law Amendments at: https://northhempsteadny.gov/treepolicy
Congratulations!
Onwards and Upwards!
___
Fall Equinox Water Activation Circle Ceremony
Please join us on:
Wednesday September 22nd, 2021 10:45-11.45 EST
Location: Stannards Brook County Park, Port Washington, NY 11050 (map)
CIRCLE FOR THE PROTECTION AND HONORING OF ALL WATER
We gather in a circle of love to activate our commitment to the protection and honoring of all Water everywhere. Together we renew our sacred bonds with all Life. This is a synchronized event honored by many communities across the Globe:
https://www.worldwatercommunity.com/
We will embody the intention to restore the balance of the Feminine and Masculine principles in sacred stewardship of Water and All of Life.
Women, girls and those who feel called to represent the Feminine, each holding a bowl of Water, will form an inner circle.
Men, boys and those who feel called to represent the Masculine, each holding a flame, will form a protective and supportive circle around the Feminine.
During the silence we will activate a global field of intention for co-creating a thriving world, where all humans live in Sacred Relationship with each other, with Water, and with All of Life.